Carnegie-Tsinghua Center for Global Policy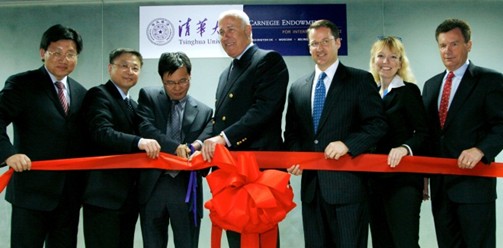 The Carnegie–Tsinghua Center, a joint center set up by Tsinghua University Department of International Relations and the Carnegie Endowment for International Peace, brings together the world's top scholars and experts from China, the United States, and the international community for collaborative research with an aim toward identifying effective and constructive solutions to common global challenges and issues of today, including China's foreign relations, international economics and trade; climate change and energy; nonproliferation and arms control; and other global and regional security issues.
The Carnegie–Tsinghua Center for Global Policy draws on the successful experience of Carnegie's Moscow Center, established in 1994, and follows the launch of its operations in Beirut and Brussels.
The Carnegie–Tsinghua Center is also part of Carnegie's well-established Asia Program, which provides clear and precise analysis to policy makers on the complex economic, security, and political developments in the Asia-Pacific region. An Advisory Council composed of distinguished leaders from the policy, business, and academic communities in China provides the Carnegie–Tsinghua Center with advice and support.